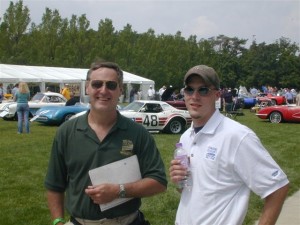 ---
Steve Hack has been dabbling with performance cars for all of his adult life. Immediately following high school he fell into the Mustang clique, soon he learned the way of the Corvette and purchased a 1975 model. He managed to resist the temptation of aftermarket modifications in lieu of keeping the car all factory; who would know that this would one day be his specialty. The itch was growing and before anyone knew he added another garage to store his collection of Corvettes.
He loved repairing and restoring his cars so much he determined to tackle it full time and turn his hobby into a profession, the birth of Eastern Corvettes. A slow start would eventually erupt into a steady business that kept growing. While he never attempted body work or internal engine repairs he found his place with smaller more intricate pieces. He is well known for his abilities on originality in restoration of gauges, headlight motors, wiper motors, radios, glove boxes, and many other Corvette systems.
As the years have passed Steve evolved the business and trained Mike to handle the cars, now Steve has taken more of a relaxing role around the shop.  Steve is now "retired", and spends around 40 hours per week doing the benchwork and sharing his knowledge with Mike. 
Steve is currently driving a Silver Blue 1964 365hp convertible that he bought from the original owner and restored in the early 80's.  After owning 40+ Corvettes this is the one he decided to hang on to.
---
Mike Hack's story differs from that of his father.  Mike was also a car guy, but preferred his cars lower and louder.  Once out of high school he worked part time with Eastern Corvettes and full time for several of Cincinnati's best custom car audio shops.  Mike learned the complexities of the 12 volt world by installing complex security systems and remote starts.  He developed a skill set for fabrication and creating fiberglass panels.  Before age 21 Mike's work was displayed at the LA Auto Show, Cavalcade of Customs, Hot Import Nights, World of Wheels, NOPI Nationals, and every imagineable custom car show.  At age 25 Mike grew tired of cutting cars apart and decided it was time to start preserving them, joining the family business full time.  Within a few years Mike was building Corvettes during the week, and judging them on the weekends – all alongside his father.  It's no surprise that Mike's first Corvette (1972 Convertible) had a completely hidden 600 watt stereo with 7 speakers and a subwoofer – all without a single modification to the car.  Mike is now driving a 2010 Silver coupe, with goals of gaining expertise on the C6 platform. 
Mike's first Corvette show was Bloomington Gold 1978 (3 months before he was born) – like he had any chance of doing something else for a living!